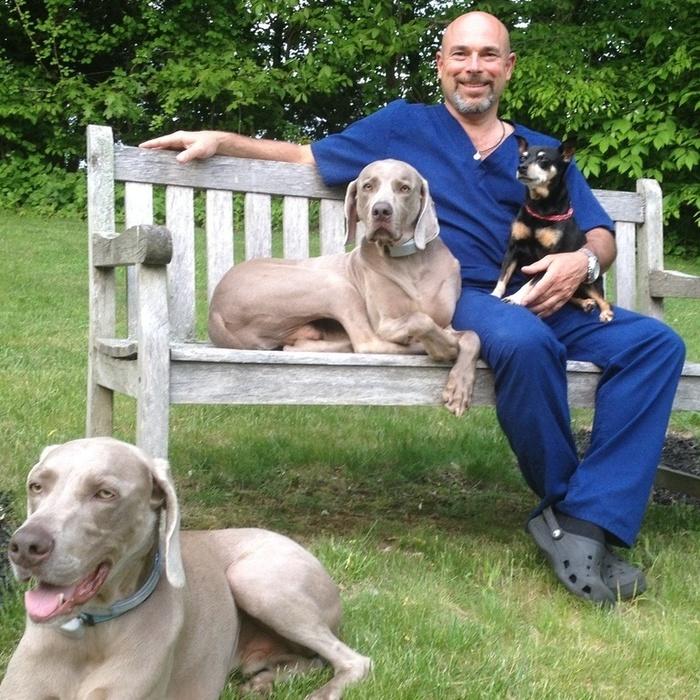 Dr. Greg Azzolin
DVM
Dr. Azzolin has had a long-standing passion for working with animals, starting as a child showing dogs. He graduated from The Ohio State University with his Doctorate in Veterinary Medicine in 1985. Dr. Azzolin graduated with high honors and won his senior class award for excellence in small animal surgery. While at OSU he also earned a Bachelors of Science degree in Zoology and a Masters degree in Veterinary Physiology and Pharmacology.
After graduation, Dr. Azzolin moved to New Haven and completed a small animal internship at New Haven Central Hospital for Veterinary Medicine. This same year he started managing the Northford Veterinary Clinic.

Not completely satisfied with the limitations of standard medicine, Dr. Azzolin returned to school in 1995 and earned certification in Veterinary Acupuncture from the International Veterinary Acupuncture Society. He now combines his skills in Veterinary Medicine with acupuncture. To this day, continuing education in small animal medicine and surgery is an integral part of Dr. Azzolin's life.

It has been a long road traveled but Dr. Azzolin is proud to be a part of the Northford community and is energized serving his patients and their human's kind enough to bring them to the Northford Veterinary Clinic.

When not at the clinic or hospital, Dr. Azzolin can be found with any or all of his rescued three dogs or five cats. His interests also include boating, running, snow boarding and travel. He has three dogs, Brynn, Max, and Gunther. He also has four cats, Daisey, Karoma, Oliver, and Precious.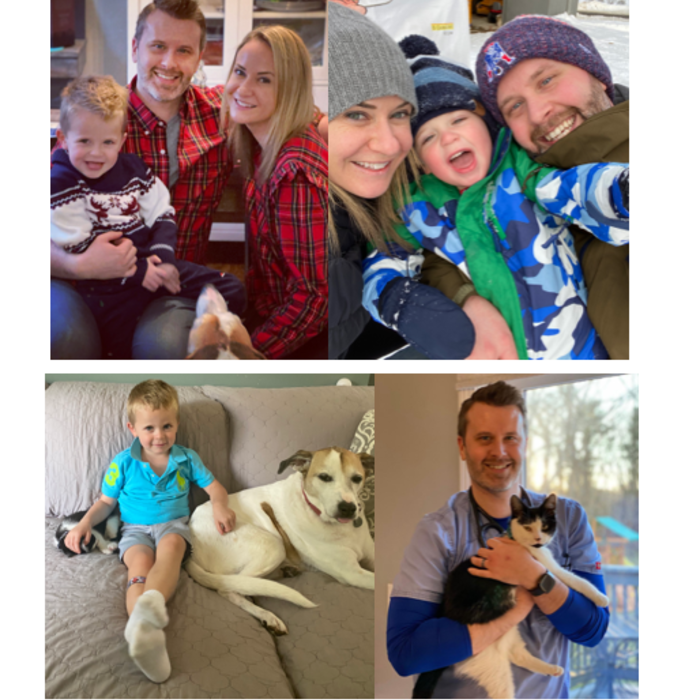 Dr. Irving "CJ" Minott
Dr. Irving "CJ" Minott, IV graduated with a Bachelor of Science in Animal and Veterinary Science with a concentration in Pre-Veterinary Medicine in 2007 from the University of Maine. He then moved to Colorado and worked as a veterinary assistant while applying to veterinary schools. He went on to earn his Doctor of Veterinary Medicine from Ross University in 2012 after doing clinical and surgical rotations at Auburn University and externships at Fifth Avenue Veterinary Specialists and the Animal Medical Center.
After practicing in New York Dr. Minott moved to Connecticut in 2013. He developed into a Chief of Staff and continued to practice while managing and coaching/mentoring. He has a strong interest in veterinary dentistry and its associated advanced equipment and techniques. This interest has been fostered with continuing education including an advanced course through the Animal Dental Center in Baltimore, Maryland.
Dr. Minott's furry family consists of three cats (Julian, Bob, Moo) and one dog (Nessie); and his human family consists of his wife, Kelly (also a veterinarian) and son, Brady (super cute). In his spare time, he enjoys renovating his home and gets up to Maine at least once yearly for a canoe trip with his father and extended family.